The UNISA Student Number is intended for use by new prospective students submitting an application to UNISA for the first time. It is not intended for students presently registered at the University.
To get a UNISA student number you'll use the online application system and you will need the following:
Internet access.
an email address that you can access regularly because as soon as you submit your online application, a student number will be sent to this email address as confirmation of receipt.
It is in your interest to submit the application forms as soon as possible and not wait until the closing date for applications.
Before completing the application form and paying the application fee, please take note of the minimum admission requirements for the qualification that you are applying for. Each prospective student must complete only one online application. 
How to Get a UNISA Student Application Number
If you were registered for the same qualification at UNISA for the previous academic year or part thereof, you need not complete this form again. 
1. Go to the UNISA website or Click HERE.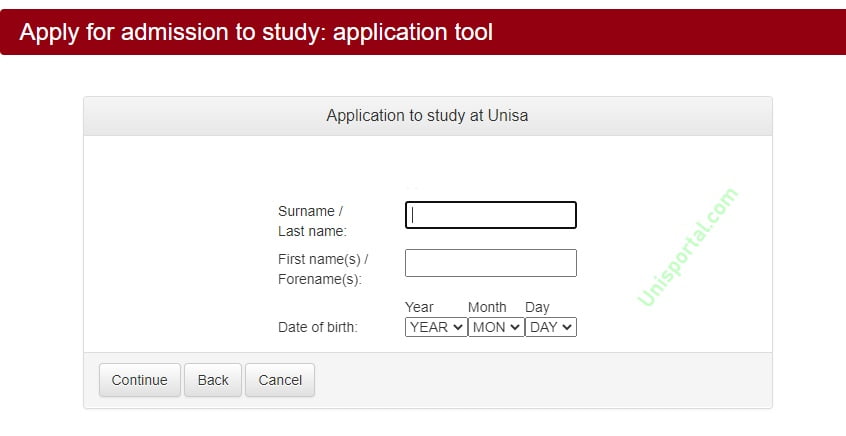 2. Enter your surname/last name.
3. Then, fill in your  First name.
4. Select from the radio box, your year, month, and day of birth.
5. Click on "Continue."
6. Select College, category, qualification, and specialization.
7. Click "Continue" and proceed with the next step to make your payment.
8. Pay an application fee of R125. 
9. You will receive a notification via SMS and Email that your application for a student number is successful. Your student number will also be sent immediately.
Note that UNISA does not accept cheques. You can pay into the UNISA account at First National Bank. You can go to the university website for the payment details and methods.
The processing of your application will be delayed if you fail to complete this form in full, or if you fail to attach all the required documents, or if your application reaches the University after the relevant closing date. The reference number allocated to you must be quoted in all future correspondence.
Once your online application has been processed, you will receive a student number. You can use it to check your UNISA application status.
Receiving a student number does NOT imply that you have been accepted by the University of South Africa yet. Admission is a separate process that your application undergoes after being evaluated by the relevant faculty.
It is in your best interest to complete your own online application. UNISA does not make use of representatives, agents, or agencies during the application process. If you choose to make use of representatives, agents, or agencies, you do so at your own risk. It is of utmost importance that you provide your personal email and postal addresses to enable the University to communicate with you directly.
How to Check Your Student Number at UNISA
To check your student number, go to the inbox of the email or SMS of the phone number you registered with, you'll find the number there.
If you have deleted the message or can't find them, you may contact our UNISA Contact Centre on the number 0800 005 311 for any additional information, as well as for assistance and advice on completing your online registration your Student Number can be found on your Registration Letter emailed to you or Fax inquiries to 012 429 4150.
General Information
You must apply for a UNISA student number if you have never before studied towards a formal qualification at UNISA. Your formal UNISA student number will be your permanent UNISA student number.
Also, if you are applying for admission to a selection degree, you must apply for a UNISA student number if you have never before studied towards a formal qualification at UNISA. If you do not have a formal UNISA student number and are selected for admission to one of the selection degrees, you will not be able to register for the current academic year.
If you are applying for admission to a Graduate School of Business Leadership (GSBL) qualification, you must apply for a UNISA student number, unless you previously studied at the university towards a formal qualification.
You'll use your personal email to apply and submit the application and not myLife e-mail account which is the university email for returning students.