Application for admission to study at UNISA for the 2023/2024 academic year starts in September and ends in November. The University of South Africa (UNISA) is one of the most prestigious universities in Africa.
Entry requirements are the minimum academic standards that the University requires in order to consider you for entry into one of UNISA degree programmes. However, simply meeting the requirements does not guarantee you a place as competition for most of the programmes is high and demand for places generally exceeds the number of places available. 
Final selection is made subject to the availability of places, academic results, and other entry requirements where applicable. It is therefore important to note that you will not automatically be accepted to study through UNISA in 2023. Students will be accommodated on the basis of the number of spaces available for each qualification.
Documents You Need For UNISA Application
Applicants are to scan and upload the following documents for the UNISA admission exercise.
A copy of school qualifications (e.g Senior Certificate)
Copy of official tertiary academic record(s) (if applicable) (internet copies will not be accepted)
Copy of ID document (RSA students) or ID/passport (international students)
A copy of the marriage certificate (if applicable) or divorce decree (if applicable)
Sworn translations of documents if they are not in English or Afrikaans.
How to Apply for UNISA Admission
Application procedure (undergraduate and postgraduate)
Once you have chosen to study at UNISA, you can apply directly online by visiting the UNISA website HERE and using the "Apply" button links which will take you to the online application tool/form.
1. Click on "Apply" at the top of the home page.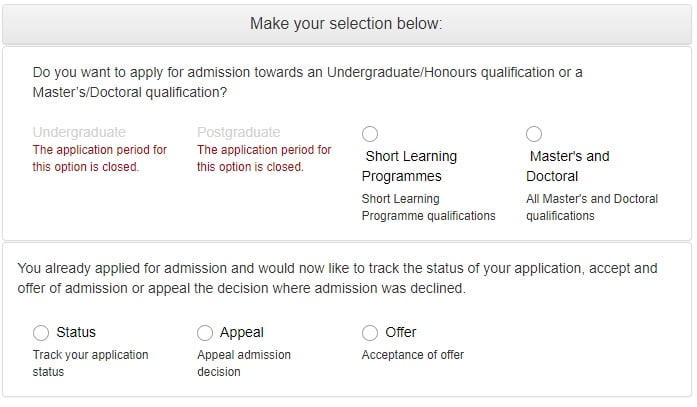 2. Select your qualification (undergraduate or postgraduate)
3. As we're applying for the first time, we'll select "First-time Unisa applicants."
4. Fill in your student number if you already have one or click "NO" to get it.
5. Click "Continue" and fill in all the fields with the required information.
6. Confirm the information you provided and click "Submit."
Applicants are to ensure that application forms are submitted early enough to be received before the deadline for submission as forms received after the deadline will not be processed. No additional documents will be accepted after the submission of completed application forms.
Registration is online, accordingly, candidates are not expected to be present physically on the university campus, but are advised to use the online application tool from any location.
You must apply for a UNISA student number if you have never before studied towards a formal qualification at UNISA. Student numbers issued for UNISA's short learning programmes are not valid for formal qualifications. Your formal UNISA student number will be your permanent UNISA student number.
You can check out how to get UNISA student number.
The online application system has a list of all the courses on offer at the University, open Intakes, application deadlines, reporting dates, and program requirements.
If you're yet to decide which qualification to choose, you find out the list of all courses offered at UNISA.
All first-time applicants are encouraged to explore the list of available programmes and the set requirements to ensure that they qualify to apply for their programme of choice. 
UNISA General Application Information
Requirements for online applications for admission to study at the University are:
All applicants are required to provide all the required information: current email address, an active phone number, Postal Address, certified scanned copies of Certificates, transcripts, and a current passport photo.
Prospective students are required to complete their applications. UNISA does not make use of representatives, agents, or agencies during the application process.
The application deadlines are indicated on the online application system, the closing dates cannot be extended.
Before submitting an application, please check whether you meet the statutory and college-specific admission requirements, and the required academics points score (APS) for your chosen qualification(s). The minimum APS score differs from college to college, and from qualification to qualification. Please refer to each qualification for the admission requirements.
If you have not finished matric or your results do not give you admission to UNISA, you may want to consider other study options related to your career goals. You will need to research the different alternatives you have based on your circumstances and what you want.
At the heart of the selection process is a calculation of your individual points score, which takes into account your final Grade 12 marks and other key factors such as the school you attended, and your gender, socio-economic group, race, and so on
Applicants can track the status of the application online through the system. Messages will be sent via email address and phone number.
To learn more about tracking your application status, click on this link, how to check UNISA application status for 2023.
UNISA Application Fees 
Applicants will pay a non-refundable application fee of R125. Upon payment, you will receive a confirmation of the payment on your email address and phone number.   
Use the student number you receive from UNISA AND the application fee reference number to make payment. Send your proof of payment to susdepid@UNISA.ac.za
Only make the payment if you have been allocated an application reference number sent to your phone or email.
Other helpful articles you might want to read and equip yourself with:
How to Log Into Your Unisa Student Portal
Moodle Unisa Guide for Students
myLife Login: How to Use myLife e-mail Account